As we started the tradition with our previous article about Oasis Mirage, we'd like to continue our "spotlight" category. Here we'll be presenting each time a new project, often in development, being built on Oasis Network. This section have multiple goals:
👄 Spread the word about the specific project.
🧠 Demonstrate how Oasis is filled with talented people working on great projects.
📚 And of course, provide to our readers some insight about the project itself.
Today we'll focus on Libertas DAO, an under-development DAO project built on the Oasis Network. The team behind Libertas DAO seems to be working on it since December 2021. We don't have much documentation yet on the details of the project but it should come sooner than later.
Libertas DAO aims to become an investment protocol which will operate as a VC fund and as it, invest in various projects on Oasis during their early-stages. As they say by themselves:
… our goal is to democratize the venture capital market and remove the barriers of entry for retail investors. Once we launch, tomorrow's FB or Google will be the result of an influx of retail investors (#Libertarians) who pooled their trust and money in the venture.

@LibertasDao
The key-points to remember about Libertas DAO, and the reason why you should keep an eye on them, are:
It will be the first fully doxxed project on Oasis Network. So the founders and the team behind the project will be known, therefore it will be easier to trust the project than an anonymous one.
They will have their demo month from May 02 to June 02.
The project is incubated by MetaMindLabs's accelerator program (backed by Oasis Foundation). They were selected (with 14 other projects) between 200 candidates.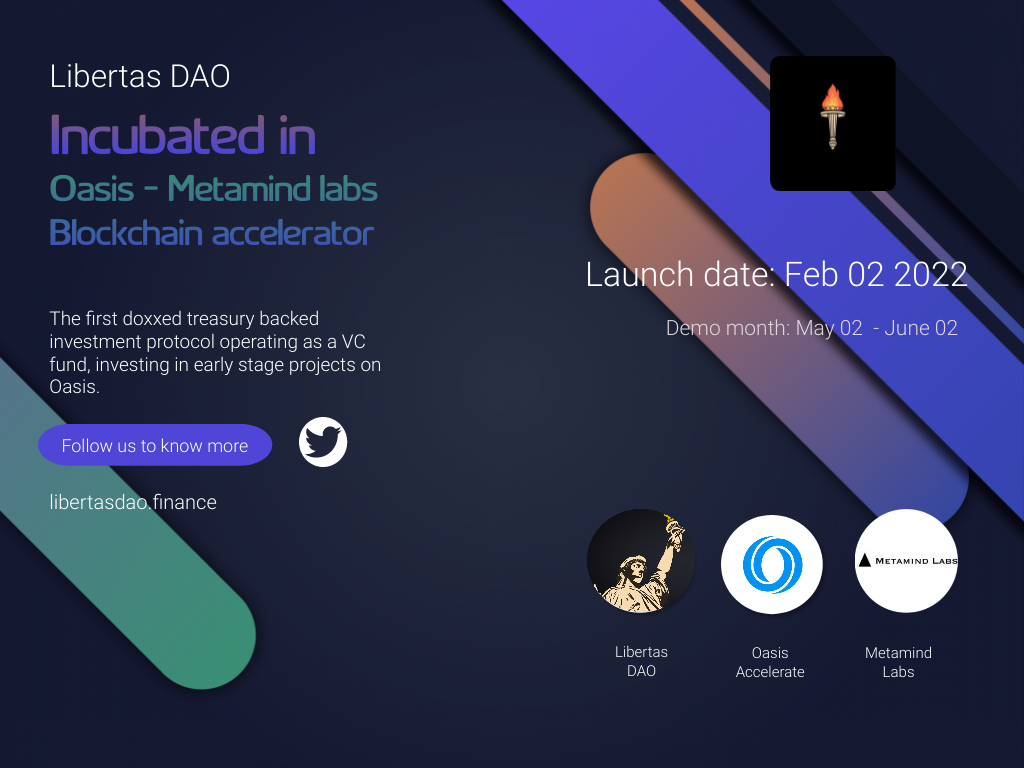 We are thrilled to see what Libertas DAO will offer and looking forward for their launch. If you want to keep an eye on them or to learn more about them, check their socials: